"I like wearing shoes!"


hahahaha and that chuchubells, was really a stupid intro.. anyway I like shoes it's funny cause I'm wearing flip flops everyday but I have this hunger of collecting shoes which is so impractical given the fact that I am your 100.99% island boy with no permanent address,. Well anyway ( is this my second "anyway" gosh I have "anyway" every 3 seconds I need a doctor) because of these hunger this morning I went to check shoes in the wild world wide web chu chu! it's my usual exercise and guess what? I saw these shoes from Louis Vuitton they are so super Golden, shinning shimmering splendid. I wanted to bite it but ofchurs I really wanted to bite my elbow!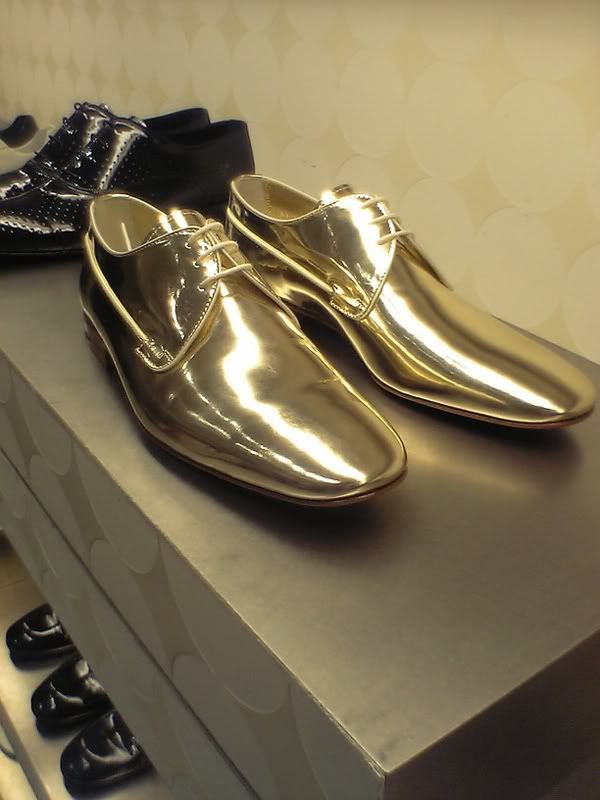 Hhhhhmmmn I'm chenking vala?!! NOOO! I'm thinking if it's a valid reason not to renew my employment contract in the island. hahahaha like for exit interview. "Give your reason for leaving the company".. my answer.. "I want to wear LV shoes" and I will show this photo! hahahaha curazy me it's so curazy me!! by the way thanks to jba35 at styleforum.net for sharing this photo, you've just made a mermaid happy. I like them but I am not sure if i could really walk wearing them hahahaha if i really want to buy the shimmering thang, maybe my reason would just "because they are Golden".
So I continued my super surf this time looking for sneakers hahahah I'll be more comfortable with them I think. Noooo! I'm just thinking. Here are two LV sneakers scheduled to be released on June 2009 oh Gosh if you like them you have enough time to save your "Datz" I mean Dolar$$$ designed by Kayne West it looks like a bright colaboration between the french house and the american artist.
Visit the LV website and get your hyper dose of sneaker culture in high end fashion! waaaaahhh I feel so isolated in my little island with no LV shoes hahahahaha!